Description
Translucent Pink and Clear Size 5 Empty Gelatin Capsules
Providing the highest quality empty gelatin capsules is priority one at Capsule USA. Empty gelatin capsules available in a variety of solid, two-tone, translucent colors, metallic/pearlescent finishes, and clear. We can guarantee a size and color capsule to fit your needs.
Great for light sensitive ingredients and contents.
Disguise visually unappealing ingredients with dark or bright solid capsules!
Brand and color code your product with your choice of size and color empty gelatin capsule.
Perfect for pharmaceutical, laboratory, educational, and research purposes but also easy enough for home personal needs.
Easily fill capsules with your choice of powdered ingredients.
Choose your own combinations of vitamins, minerals and powdered nutrients, then simply open the easy to pull apart 2 piece capsule, set each half into the designated holes in our easy to use manual capsule fillers, and follow included instructions to evenly distribute your powdered mixture between all capsules. Capsules are easily snapped together and there is no skill required to use our personal manual capsule filling machines *sold separately. Easily fill 100 capsules in about 10 minutes (each tray for our most popular machine fills 24 capsules per use).
Have total control and piece of mind knowing your herbal and all natural supplements contain only the ingredients you desire.
Advantages of capsules from CapsuleUSA:
cost
quality control of ingredients
multiple colors allow for quickly identifying capsules containing different contents
protection from light (for light sensitive ingredients)
brand identity and customer recognition
hide ingredient appearance (research)
hides unpleasant taste
smooth gelatin capsules & smaller sizes provide easier swallowing for people/animals in need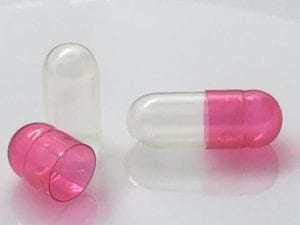 Check out our other colors in the size 5 empty gelatin capsules selection HERE.