Description
READ CAREFULLY: (This is a sale item) Available "while supplies last" 
Select CAP or BODY for colored in stock selection of Size 5 Empty Gelatin Capsules.  
Empty Gelatin Capsule CAP refers to the shorter, wider cap that fits over the filled capsule body
Empty Gelatin Capsule BODY refers to the longer, thinner 1/2 that is filled
Yellow Size 5 Empty Gelatin Capsules makes a bright choice at a great price. This see through option comes in size 5. This is the smallest size we offer. The over all length when sealed comes to 11.1 mm. Make it easier to swallow bitter supplements or unpleasant textures with these empty gelatin capsules. Easy to close and safe to use.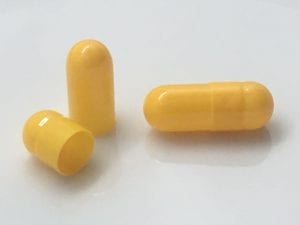 Need more colors in a size 5 capsule? Check out the other options HERE.